November 17 Eastern Nazarene College Chamber Singers present Renaissance Madrigal Feast


Back by popular demand, the Eastern Nazarene College Chamber Singers return to the South Shore Performing Artist Series's home at Central Baptist Church to present two performances of their annual renaissance madrigal feasts. The evening will include a comedic theatrical presentation that is peppered with choral music from the renaissance period. The choir concludes the evening with a live staging of the Nativity. There is no better way to kick off your holiday season with a fantastic gourmet meal and top-notch musicians!

The choir will present one performance on Saturday November 17 at 6:30pm. Seating will begin at one half hour prior to the start of each performance.
Tickets are $10.00 for General Admission - Meal included, and $7.00 for seniors and children and ENC students with valid ID. Advance reservations are required. Tickets are sold through the choir at Eastern Nazarene College and through the South Shore Performing Artist Series Online Reservation sales. Please call the Eastern Nazarene College Box Office at 617-745-3715. Reservations may also be made online by filling out the contact form below. Please note that tickets are not available at the door. Patrons who are unable to reserve a seat at the performance may join a wait list at the door 15 minutes prior to performance, but are not guaranteed seating. A late arrival (10 minutes or more) will result in loss of reservation. No refunds are given.

ONLINE RESERVATIONS

You may reserve online here. Please note that payment in full is required for online reservations. We currently offer Brown Paper Tickets as our online processor. To reserve Tickets:
1. Click the image of "Tickets Available Now" below and follow the on screen instructions
2. Fill out the form below - (please fill out this form, especially if problems arise during your online ticket purchasing experience)
3. Watch your email inbox for a confirmation email within 2 business days.

If any issues arise please email: boxoffice@southshoreperformingartistseries.com
or contact the ENC box office at 617-745-3715.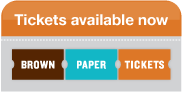 The South Shore Performing Artist Series has the following concert etiquette policy

-All cell phones, electronic, or other noise making device must be switched to the off and/or silent position.
-The use of any recording device is prohibited.
-Flash photography is prohibited unless approved by the performing party.
-Although SSPAS does not have an official dress code, most patrons enjoy following a business casual dress code.
-Patrons are expected to behave courteously in proper concert conduct.
-Seating is granted on a first come first serve basis.
-Patrons with reservations are seated first in a reserved section. The reserved section is subject to change deepening on the performance space and the performer's needs.
-Once the concert has started, any open seat in the reservation will become available.
-Late arrivals to the concert with or without reservation may result in the loss of the reservation.
-SSPAS respectfully requests that late arrivals wait to be seated at the discretion of the house staff.
-The concert venue, hall, or performance space will open at one-half hour prior to the concert. Seating normally begins shortly after the venue is opened however the performers may need extra time.
-SSPAS, Central Baptist Church, or the performing party is not responsible for loss of valuables, personal belongings or objects of the like.
-There is no smoking on the campus of Central Baptist Church.
-In case of an emergency, please follow the directions of the house staff.
-SSPAS currently does not offer refunds for suggested donations.